INDUSTRY CONSULTATION: Melbourne Water MUSIC Guideline [Now closed]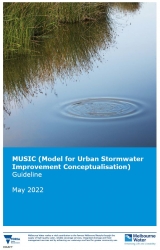 13 May 2022
*The Feedback register is now closed
As communicated in the industry briefings held during March, Melbourne Water's MUSIC Guideline update 'Release A' is now available for industry review and feedback. This stormwater modelling guideline is mainly relevant to practitioners submitting MUSIC models to Melbourne Water and reviewers of Melbourne Water models.
In addition to the guideline document, the accompanying FAQ document provides further information on the purpose of the update, individual update items, what is coming and implications of the updates for the industry.
The industry is encouraged to submit feedback by entering comments in the provided feedback register and sending it back via info@clearwatervic.com.au by 14 June 2022. Please write "MUSIC Guideline" in the subject line of the email.
Resource files:
MUSIC Guideline 2022 Release A (pdf)
FAQ _ MUSIC Guideline 2022 Release A (pdf)
Feedback register _ MUSIC Guideline 2022 Release A (xlsx)
Rainfall map _ MUSIC Guideline 2022 Release A (zip)
Rainfall templates _ MUSIC Guideline 2022 Release A (zip)