Healthy Waterways Strategy stormwater targets - practicioner's note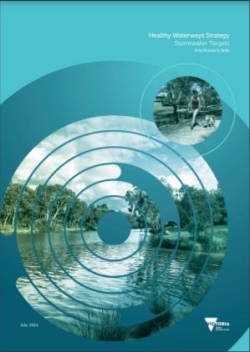 30/06/2021
The Victorian Environment Protection Authority's Urban Stormwater Management Guidance sets out urban stormwater performance objectives for priority and other areas. These performance objectives are expressed in terms of percentage reduction in mean annual impervious runoff volume.
Melbourne Water and EPA have worked together to prepare this note and develop a consistent framework, whereby the targets within the HWS and the Urban Stormwater Management Guidance are aligned and reflect current scientific and industry knowledge.
This practitioner's note:
guides water and land development industry practitioners to identify stormwater targets for their location
is designed for application within Melbourne Water's operational area but can be applied across Victoria
describes the background and scientific basis for the Healthy Waterway Strategy stormwater targets
explains the relationship and alignment between the Healthy Waterway Strategy targets and EPA's Urban Stormwater Management Guidance document.
This note should be read with the Healthy Waterways Strategy co-design documents that refer to specific catchments and sub-catchments.