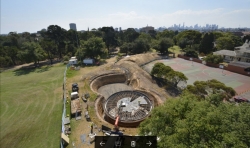 Alma Park Stormwater Harvesting Online Site Visit
Tuesday 14th Jul 2020 10:00AM - 11:30PM
Online - Zoom

Registrations are now closed
Overview:
Join Alastair McHarg (Senior Project Manager), Sam Innes from City of Port Phillip, Gary Walsh from E2Design and Clearwater in an online event to view the recently completed Alma Park Stormwater Harvesting Project in the City of Port Phillip. Presenters will be live onsite to tour / demonstrate site features and answer questions.
Presenters will candidly discuss project history, design, construction and handover and stakeholder consultation.
This $2.7M project (highly commended in Stormwater Victoria 2019 Awards) has been undertaken as a part of larger park upgrade to improve recreation facilities and amenity for park users.
The project includes the following features:
A 230m2 bioretention garden to filter nutrients and heavy metals from stormwater collected from main drain
A treatment pump shed that includes ultraviolet treatment
Storage tanks with a combined capacity of over one mega litre projected to collect and store over 18 million litres of stormwater annually. Water will be used for park irrigation to improve amenity and reduce potable consumption.
Grass cell access tracks to enable vehicle access while maintaining grass coverage
Innovative design elements that fully integrate the stormwater harvesting system into a heritage listed park
Audience:
Suitable for anyone involved in sustainable water planning or asset maintenance, including developers, planners, architects, environment and maintenance staff.
RSVP:
Thursday 9 July
Enquiries:
PH: 9679 7711