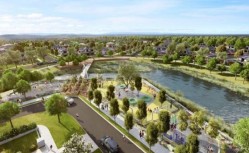 Aquarevo - A Water Efficient Housing Estate
Thursday 7th Sep 2017 2:00PM - 4:00PM
Aquarevo Discovery Centre
Boland Dr, Lyndhurst, Victoria, 3975
Registrations are now closed
Overview
Aquarevo is an innovate residential development in Lyndhurst, South East of Melbourne, created through a collaboration between South East Water and Villawood Properties. Located on these site of a decommissioned water purification plant, the development will incorporate a range of water and energy initiatives both within homes and connected across the site.
Aquarevo homes will utilise rainwater captured and stored at each property and treated to a standard suitable for supplying hot water to taps in the shower, bath, laundry trough and clothes washing machine. They will also be fitted with solar panels. South East Water's OneBox® technology will manage water use within the homes and monitor energy consumption. Class A recycled water produced onsite and used in toilets, gardens and washing machines. Together, these initiatives are expected to reduce demand for drinking water by 70 percent and reduce stormwater runoff by 25 percent.
This is an opportunity to visit the Aquarevo Discovery centre and hear about the research, development and planning behind this innovative devlepment. You also hear about the leadership and collaborations that enabled the future of water efficient communities to be created at Aquarevo.
Presenters
Presenters will provide a range of perspectives covering technology, planning, leadership and collaboration [more details to come].
Audience
Ideal for anyone who is involved in the planning, design and/or maintenance of integrated water management projects.
Inclusions
Afternoon tea
RSVP
1 September 2017 – places are limited
Enquiries:
p: 9679 7711
e: info@clearwatervic.com.au