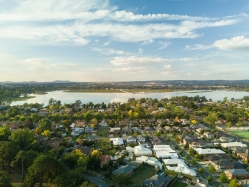 Ballarat Integrated Water Management Tour
Wednesday 29th Nov 2017 10:00AM - 2:00PM
Central Highlands Water
7 Learmonth Rd, Wendouree, 3355
Registrations are now closed
Overview
Join Clearwater and Central Highlands Water on our first regional bus tour!
This tour of the Central Highlands region will share insights into the area's evolution of IWM; from reactive measures in times of water scarcity during the millennium drought, to today's strategic initiatives ensuring a water secure future for the region.
At the height of the millennium drought, Ballarat was a city in water crisis with dry lakes, brown recreational areas, dusty sporting grounds, floundering gardens and frequent community event cancellations. It was a city struggling to maintain its basic drinking water needs. Through a series of collaborative projects and initiatives, Central Highlands Water generated long term plans with partners across the region to develop a clear vision for the future.
The tour will include:
Insights into the history and evolution of Integrated Water Management in the Central Highlands region
Visits to several sites that have benefitted from collaborative planning and delivery of integrated water management
Discussion of key learnings, challenges, successes, and upcoming projects
Networking with stakeholders from across Victoria
Morning tea, lunch and refreshments
Site visits
Ballarat West – Strategic growth area incorporating a major employment precinct and sustainable water supply options through a purple pipe network and future opportunities for aquifer recharge.
Mars / McCain – Collaborating with the private sector to deliver improved water efficiency and trade waste outcomes.
Ballarat North Water Reclamation Plant (Plant Tour) – Achieving sustainable water management through Class A recycled water and an alternative water network.
Pauls Wetland – Collaborative planning and delivery between a water corporation and local council to deliver multiple benefits and maximise stormwater harvesting potential.
Lake Wendouree – Delivering water for recreational values and economic benefit.
Victoria Park – Enhancing recreational value by integrating a collaborative play space with onsite stormwater harvesting.
Audience
Suitable for those involved in sustainable water planning and delivery, urban planning and design, economic development and community well-being.
Registration
Individual registration cost is $40 per person – please follow the link to REGISTER NOW
This tour is supported by the Victorian Government Department of Environment, Land, Water and Planning with registrations offered at a subsidised rate.
*An administration fee may be charged by Clearwater if participants fail to cancel or transfer their registration 5 working days before the event.
Address
The tour will begin and conclude at Central Highlands Water (7 Learmonth Road, Wendouree, 3355)
Parking is available on site, and the Wendouree Railway Station is a less than five minute walk away
RSVP
Friday 24 November
Enquiries
Maddy McKinley
Project Officer
p: 03 9679 7916