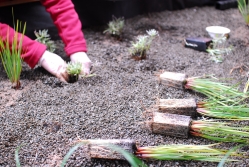 Building a Raingarden Demonstration Day
Saturday 20th Nov 2010 1:00PM
Betty Day Community Centre
67 Argyle Street, St kilda, Victoria
The City of Port Philip, in conjunction with the Raingardens Program, is running a demonstration day for you to see how easy it is to build a raingarden for your home. See how you can help improve the health of our waterways and Port Phillip Bay, limit flooding issues and beautify your garden. Free VeGeQ from 1pm.
For more information and to register your attendance contact the City of Port Phillip Sustainable Environment Team
by phone on 9209 6548 or by email.