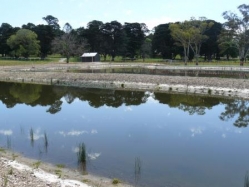 Constructed Waterway Design Training: Applying Constructed Waterway Manual Principles (2nd Delivery)
Thursday 29th Jul 2021 10:00AM - 3:30PM
Online - Zoom

Registrations are now closed
*Due to popular demand we have opened a 2nd delivery of the course this July*
Background
Applying best practice design principles in constructed waterway design will ensure your project has quality ecological and urban design outcomes and delivers assets that are sustainable to maintain. Understanding and applying these principles will also ensure quicker design review timelines from Melbourne Water and / or Local Council.
This session will address engineering, geomorphology, ecology, flood management and liveability elements that should be considered in a quality design process. The training will draw on the guiding principles and deemed to comply design criteria from the Melbourne Water Constructed Waterway Design Manual (CWDM). For those practitioners working in Melbourne Water's area, this session is a must in understanding Melbourne Water's expectations for constructed waterway designs however the session will also be relevant to areas outside the Melbourne Water area in terms of best practice waterway design elements. The training is relevant to all professionals who design and project manage the construction of waterways, or review designs of constructed waterways.
The ¾ day online training session will include interactive break out discussion groups, case studies and design drawings. The training has been developed by Melbourne Water, Alluvium Consulting and Clearwater to support implementation of the best practice design principles in the CWDM.
The CWDM specifies the landscape architect as playing a leading role in the waterway design process. *Therefore, Clearwater will be running a dedicated session for Landscape Architects later in the year subject to demand*.
Purpose of this training
To facilitate more efficient design and quicker review procedures to support timely delivery of best practice constructed waterways across Victoria
Support industry uptake & implementation of Melbourne Water's Constructed Waterways Design Manual.
Learning objectives
Gain fundamental knowledge of constructed waterway ecological values, hydrology & hydraulics, physical form & stability
Understanding of deemed to comply design criteria
Understanding key elements of waterway design at the concept, functional and detailed design stages
Understanding of vegetation function and features of a constructed waterway
Understanding of post construction risk assessment
Understanding the Melbourne Water design acceptance process
Confidence in applying the CWDM design principles
Target Audience
Design engineers, land development industry, and council staff reviewing waterway designs.
Trainers
Our trainers are experts in their field and bring a wealth of knowledge and experience. Both trainers are key developers of the Melbourne Water Constructed Waterway Design Manual completed in 2019.
Jonathon McLean: Alluvium
Jonathon is a principal consultant at Alluvium who is passionate about the transformation of our cities towards a more water sensitive approach. With over 25 years' experience in the urban water sector Jonathon's expertise lies in understanding and managing the impact of urbanisation on catchment hydrology, waterways and ecological processes. He has been a leading technical contributor on a range of best practice guidelines including Melbourne Water's Waterway Corridor Guidelines and the Constructed Waterways Design Manual.
Jenny Butcher: Alluvium
Jenny is an environmental engineer at Alluvium with a strong interest in urban water, waterway management and liveability. Jenny has worked on a variety of water quality, urban water, water sensitive urban design (WSUD), waterway naturalisation and water policy projects. Jenny was heavily involved in the finalisation of the CWDM for Melbourne Water, responsible for finalising technical elements for waterway design, and producing new waterway design standard drawings.
RSVP
Registrations close on Friday 22 July 5pm
Enquiries:
PH: 03 8615 5033