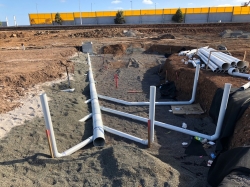 Construction Hold Points Training - Bio-retention Systems and Wetlands
Thursday 29th Aug 2019 9:30AM - 3:30PM
William Angliss Institute
555 La Trobe St, Melbourne, Victoria, 3000
Registrations are now closed
Overview:
Are you responsible for inspecting construction milestones for WSUD assets? Do you want to learn tips on what to look for to ensure specification requirements are complied with?
Clearwater and Melbourne Water's Living Rivers Program have developed this training course to help local government improve their skills and processes in WSUD construction management to ensure WSUD assets are constructed as designed and fully-functional to accept at handover.
This training aims to improve theoretical and practical understanding of the hold points required for construction of bio-retention systems and wetlands specifically.
By the end of this session you will have:
learned how to conduct critical hold-points assessments to ensure assets are constructed as designed
built knowledge of common WSUD construction issues and how to avoid them
improved your understanding of how to streamline the WSUD design-construction-handover process, including roles and responsibilities
shared and discussed challenges, pitfalls and solutions with a network of industry peers
Audience:
Ideal for project site inspectors and project management staff, WSUD officers, engineers and environmental officers from government or commercial organisations. Clearwater encourages professionals working in the following areas to attend:
stormwater management (including those overseeing project funding and grants)
waterway & catchment management
water / waste water / drainage infrastructure management
project and construction management
Pre-requisites:
Due to the technical content of this workshop, participants should have a sound understanding of WSUD principles and different types of stormwater treatment technologies.
Workshop presenters:
Alexandra Brown - Spiire
Jamie Comley - J Comley Consulting
Our trainers are experts in their field and bring a wealth of knowledge and experience.
Inclusions:
Tea/coffee on arrival, morning tea and lunch are provided.
RSVP:
21 August 2019
Enquiries:
p: 9679 7711
e: info@clearwatervic.com.au