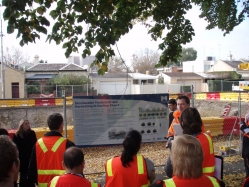 Darling Street Site Tour: Completed Stormwater Harvesting Project
Tuesday 5th Jun 2012 10:00AM - 11:00AM
Darling Street
East Melbourne, Victoria, 3121
Clearwater in partnership with the City of Melbourne would like to invite you to this unique opportunity to take a tour of the innovative Darling Street project now fully complete and functional.
This tour is the final one in a series that allowed participants to see the project at different stages during construction.
Ralf Pfeiderer from the City of Melbourne will conduct the tour and allow participants to:
Learn more about the design and construction of the project (including photos)
Have a close-up look at the biofilters and possibly witness a demonstration of the system
Get an insight on lessons learnt during the conception and construction of this stormwater harvesting project.
There is no need to register for this event. The site tour will begin at Darling Street at 10am, concluding at 11am. It will follow on from the official launch of the Darling Street Stormwater Harvesting System, which takes place at 9am.
We hope to see you there!