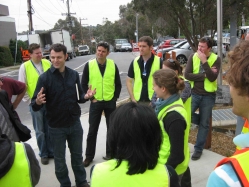 Gaining Institutional Capacity for WSUD
Monday 20th Feb 2012 8:30AM - 5:00PM
MCG
Jim Stynes Room, Melbourne, Victoria, 3000
This one day workshop will provide participants with the skills to assess organisational capacity, build commitment into planning and policy, and engage stakeholders to adopt new initiatives.

The workshop will provide a range of recognised engagement and self assessment techniques to accelerate uptake of sustainable water management.. This will be reinforced through course activities such as real life case study investigations and problem solving scenarios. The workshop will be framed in a local government context, with reference to Victorian local government processes and planning tools, however it is broadly relevant to any practitioners who want to apply strategic organisational capacity building.

How to register
You can register for this workshop as a stand alone event. Registrations must be made via the WSUD 2012 website .