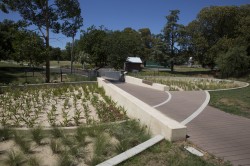 Grace Park site visit
Wednesday 5th Apr 2017 2:00PM - 3:30PM
Hawthorn Arts Centre
360 Burwood Road, Hawthorn, Victoria, 3122
Registrations are now closed
Note: This session is sponsored by Melbourne Water's Living Rivers team and there is therefore no cost for attendance.
However, an administration fee may be applied (post event) if you have registered and do not attend, or fail to provide a notification of non-attendance at least 5 working days prior the event and/or a replacement person cannot be found.
Overview
Join Pru Smith from the City of Boroondara, AECOM, Living Rivers and Clearwater to visit the newly completed Grace Park Raingarden (also called the Glenferrie Stormwater Harvesting Project). This $1.6M system treats main drain stormwater through a raingarden system to store for irrigation of Grace Park, Glenferrie Oval, and open spaces across the municipality. The project is design to harvest and treat up to 37ML for reuse which will considerably reduce council's potable water consumption and contribute to treatment / pollution reduction targets. This project will be discussed in the wider context of Boroondara's IWM policy context.
Location
Please note this is a single site visit rather than a tour to multiple locations. Participants will be responsible for organising their own travel to the site in Hawthorn. Exact meeting point will be confirmed upon registration.
Audience
Suitable for all practicioners involved in sustainable water planning or asset maintenance, including developers, planners, architects, environment and maintenance staff.
RSVP
Thursday 30 March
Enquiries:
03 9679 7711