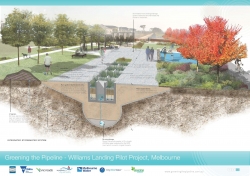 Greening the Pipeline Site Visit
Thursday 16th Nov 2017 1:30PM - 3:00PM
Williams Landing Parkland

Registrations are now closed
Overview
The Greening the Pipeline project aims to transform Melbourne's Main Outfall Sewer (MOS) reserve into a linear parkland to enhance liveability in Melbourne's West. Join Clearwater, Melbourne Water, the CRC for Water Sensitive Cities and The City of Wyndham to visit this exciting multi-functional integrated stormwater improvement project.
This site visit will be an opportunity to explore the Williams Landing pilot site; a showcase for Integrated Water Management which demonstrates the transformation of an unused area into an enticing outdoor community parkland. This site captures and reuses local stormwater for irrigation of green spaces to support active lifestyles and counteract urban heat stress. A short stroll to nearby Wyndham Waters Housing estate will also allow you to view the Water Sensitive Urban Design features that connect with Williams Landing.
During the site visit, you will hear from project partners Melbourne Water and Wyndham City Council. In addition to technical details, you will find out more about stakeholder / community engagement in this first stage pilot project as well as about the CRC for Water Sensitive Cities' research project aiming to quantify the liveability benefits of the project (Check out the very comprehensive webpage for Integrated Research Project 2: Comprehensive economic evaluation framework).
Please note this is a single site visit rather than a tour to multiple locations. Participants will be responsible for organising their own travel to the site.
Audience
Suitable for anyone involved in sustainable water planning or asset maintenance, including developers, planners, architects, environment and maintenance staff.
RSVP
Monday 13 November
Enquiries
Ph: 9679 7711