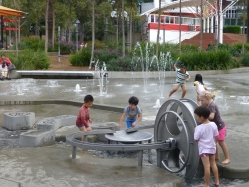 Hot Topics: Evaluating the Costs and Benefits of Integrated Water Cycle Management
Friday 25th Oct 2013 9:00AM - 1:30PM
Mercantile Rowing Club
5 Boathouse Drive, Melbourne, Victoria, 3000
Registrations are now closed
Do you need tools that can help identify the costs and benefits for IWCM projects within your organisation?
How do you gain buy-in for your IWCM projects that may have high liveability benefits for the community in the long-term, but may not be the cheapest option in the short-term?
Clearwater's latest Hot Topics session brings together industry experts and peer presenters to share the latest research, approaches, and tools to assist you in this area and get those winning ideas off the ground!
As an attendee you will:
Hear from the CRC for Water Sensitive Cities on their preliminary research results from councils on methods of economic valuation of integrated stormwater management systems
Learn approaches to quantify liveability and amenity benefits for IWCM projects
Hear an example from Yarra Valley Water of a community benefit/cost framework model designed to evaluate the total cost of a project taking into account the costs relating to amenity and liveability
Find out about Melbourne Water's life cycle cost study, with results from local Melbourne councils which helps to measure the costs associated with all stages of a WSUD asset's life cycle

Presentations on the day will be supported by facilitated discussion and networking activities followed by a sit down lunch overlooking the Yarra River.
Audience:
Ideal for anyone involved in the planning or design of new IWCM projects. This includes multiple departments within council, water authorities and large scale developers.

RSVP:
Friday 18 October - please are limited!

Enquiries:
info@clearwatervic.com.au or 9679 7711