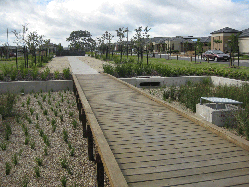 Hot Topics: IWM - Clause 56.07-4 and beyond
Friday 16th Nov 2012 9:00AM - 1:30PM
Fenix Restaurant
680 Victoria Street, Richmond, Victoria, 3121
Registrations are now closed
Overview
Clearwater is excited to announce the return of our signature peer-to-peer learning and networking event, 'Hot Topics'. Delivered in partnership with Melbourne Water, this half day session will provide attendees with a unique opportunity to hear how Clause 56.07-4 is currently being implemented and to inform how any extension of the clause to other zones is approached. The day will feature an expert panel with Q&A, facilitated peer-to-peer discussion and short presentations from State Government representatives.
The State Government has committed to applying the current approach to stormwater management in residential subdivisions more broadly to other types of subdivision. This is in response to the Living Melbourne, Living Victoria Implementation Plan released earlier this year.
Audience
Ideal for anyone who is involved in the planning or design of integrated water management for urban development, and the implementation of the Clause 56.07-4 in particular.

At the end of session you will;
Hear first-hand from the Office of Living Victoria on the next steps
Hear case studies directly from developers where the implementation of Clause 56.07-4 has enhanced liveability for new communities
Learn how design and implementation challenges have been overcome
Constructively discuss how any extension of similar Clause provisions to other types of subdivision may be approached.

Inclusions
Arrival tea and coffee, morning tea and sit down buffet lunch at a lovely riverside venue.

RSVP
Friday 9 November 2012 - please are limted

Enquiries
info@clearwatervic.com.au
About Hot Topics
Hot Topics is a series of peer-to-peer learning and networking initiatives, delivered in partnership with local government and Melbourne Water. These seminars focus on all aspects of sustainable urban water management through expert and practitioner presentations, and facilitated discussions. If you have idea you would like us to explore, email info@clearwatervic.com.au.