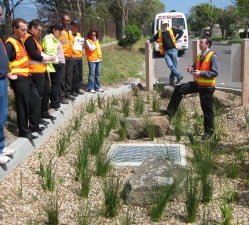 Kingston Water Sensitive Urban Design Tour
Tuesday 3rd Dec 2013 9:00AM - 2:00PM
Meeting point to be advised upon booking your place
Mordialloc, Victoria, 3195
Registrations are now closed
Overview
Join Clearwater and the City of Kingston on a half day tour to view an impressive variety of established raingardens as well as an award-winning innovative stormwater harvesting system implemented in an old industrial estate.
The City of Kingston is recognised as an industry leader in retrofitting water sensitive urban design (WSUD) into council projects. This half day tour is lead by Alan West, Kingston Council's Engineering Design Team Leader. You will be taken to WSUD sites developed over the past ten years to discuss successes and lessons learnt from each of the projects.

The tour will include:
Visits to a variety of raingardens developed in council streetscapes, open space areas, commercial developments and bayside foreshore locations.
Visit to an old industrial estate, where local infrastructure has been redesigned to harvest stormwater from factory roofs and road runoff.
Discussion about key challenges, successes, learnings and current programs associated with each site.
A sit down lunch at a local restaurant providing the opportunity for discussion and networking.

Audience
Suitable for anyone involved in sustainable water planning or asset maintenance, including developers, planners, architects, environment and maintenance staff.

Continuing Professional Development (CPD)
Course completion will contribute CPD points to programs with the following organisations: Nursery and Garden Industry Association (NGIA), Australian Institute of Landscape Architects (AILA), Engineers Australia (EA) and Planning Institute of Australia (PIA).

RSVP
27 November 2013

Enquiries
Melissa Cordy 9679 7711 or info@clearwatervic.com.au