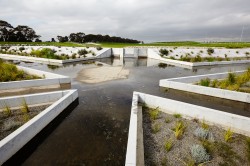 Melbourne Airport Scheme: Lessons learnt 5 years on
Tuesday 10th Nov 2020 2:00PM - 3:30PM
Online - Zoom

Registrations are now closed
Overview:
Join Leigh Holmes from Spiire Consulting and Clearwater for an online site visit to Melbourne Airport IWM project.
The first stage of this award winning project was completed in 2016. Join this online site visit to find out how effectively it is working and what the monitoring data has revealed. You will find out what is working and what has evolved differently from the plans at design stage.
The Melbourne Airport Scheme project addresses aspects of the water cycle that include: major drainage and flood management, stormwater quality management, waterway health management, stormwater harvesting and reuse for key uses at Melbourne Airport and surrounds. Reuse of treated stormwater is expected to exceed 130 megalitres per year. There are multiple recipients of the water including: cooling towers, the tri-generation plant, car-washing facilities and the irrigation of Essendon Football Club.
The online site visit will explore
the evolution of the project from design to construction
how the project has realised the water demands
remote monitoring technology to analyse the performance
catchment risks and settling in
operational and management issues
working with multi stakeholders
opportunities for expansion into the future
Audience
Suitable for all practitioners involved in Water Sensitive Design (WSUD) and Integrated Water Management (IWM) planning, design, construction, asset maintenance or promoting a business case. We encourage consultants, developers, urban and water planners, architects, environment and maintenance staff to attend.
RSVP:
Monday, 9 November
Enquiries:
PH: 9679 7711