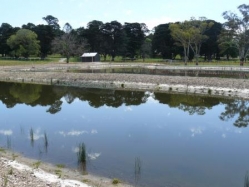 Melbourne Water Lunchtime Seminar
Friday 1st Apr 2016 12:45PM - 2:00PM
Melbourne Water office
990 La Trobe Street, Docklands, Victoria, 3008
Registrations are now closed

This 1h seminar is hosted by Melbourne Water, and is part of a regular lunchtime 'research seminar' series. It will provide valuable information and networking opportunities. There are only limited spots available for external stakeholders, so get in quick and register now.
Prioritisation tools for wetland management and biodiversity conservation
Lucy Rose's PhD research is focused on improving decisions related to managing or conserving biodiversity, with a particular emphasis on wetland biodiversity. Her research aims to address methodological issues about optimal conservation investment, incorporating uncertainty, systematic conservation planning and habitat modelling and mapping. There are several components to the project:
Cost-effective prioritisation of multiple actions under uncertainty - using the Growling Grass Frog and urban development in Melbourne's north as a case study;
Prioritisation of wetland areas using habitat modelling of multiple species;
Finding an optimal conservation investment when there are multiple areas, actions and species; and
Possible integration with similar work on streams in the Melbourne Water region.
Lucy has about a year left before completion and will present an overview of her PhD work to date.
Speaker
Following Honours in Freshwater Ecology and a Masters in Environmental Science, Lucy Rose worked at Melbourne Water for 7 years. She left in 2012 to pursue a PhD with the Quantitative and Applied Ecology Group at the University of Melbourne.
BYO lunch