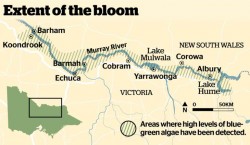 Melbourne Water Lunchtime Seminar
Tuesday 28th Jun 2016 12:45PM - 2:00PM
Melbourne Water office
990 La Trobe Street, Docklands, Victoria, 3008
Registrations are now closed

This 1h seminar is hosted by Melbourne Water, and is part of a regular lunchtime 'research seminar' series. There are only limited spots available for external stakeholders, so get in quick and register now.
Melbourne Water's blue green algae research and the 2015/16 Murray River bloom
The Murray River has a long history of extensive blue green algae blooms. The 2015/16 bloom ‒ affecting a large section of the Murray River along the New South Wales-Victoria border ‒ is of particular interest as it is dominated by a species normally associated with warmer climates. That is, it may be a spectacular example of a blue green alga increasing its geographic range in response to a warming climate.
High-throughput and low-cost technology developed with the support of Melbourne Water is being trialled by a Melbourne Water-sponsored PhD student to rapidly quantify the potential of the current Murray River bloom to produce toxins harmful to humans and wildlife.
Associate Professor Aaron Jex (University of Melbourne & Walter Eliza Hall Research Institute) will talk about this research, whilst an overview of Melbourne Water's blue green algae research will be presented by Dr Nick Crosbie.