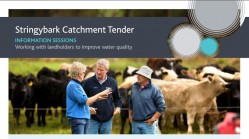 Melbourne Water Lunchtime Seminar - Stringybark Market Based Instrument
Wednesday 20th Apr 2016 12:45PM - 2:00PM
Event Location to be advised closer to the event
Registrations are now closed

This 1h seminar is hosted by Melbourne Water, and is part of a regular lunchtime 'research seminar' series. There are only limited spots available for external stakeholders, so get in quick and register now.
Stringybark Market Based Instrument
Melbourne Water recently trialled a novel Market Based Instrument (MBI) to deliver water quality improvements in the Stringybark Catchment. The MBI team would like you to invite you to hear key findings from the project and to participate in a mock tender that illustrates how a market based approach works and the information it can provide.
Rural land holders in the catchment were invited to participate in a tender process to reduce loads of sediment and nutrients running off their properties and into the creek. Landholders attended information sessions and had staff visit their properties prior to submitting a 'bid' made up of water quality projects they wanted to undertake - and the funds they needed from us to undertake them. Bids were then assessed on the amount of water quality benefit per dollar and the best value projects were funded. Importantly, 99% of all the potential water quality benefit of all proposals is expected to be achieved by the successful bids.
Speakers
Shayne Annett (Senior Consultant, RM Consulting Group) has a strong background in natural resource management and has a keen interest in translating ideas from theory, and lessons from evaluation, into 'the field'. He has experience working directly with farmers and land managers, and engaging community groups in complex land management situations.
Carl Larsen (Senior Consultant, RM Consulting Group) is a socio-environmental scientist with skills in integrated water resource management, natural resource management programs, climate change and stakeholder engagement. He has an understanding of the practical implications of policy and science on communities and agriculture.