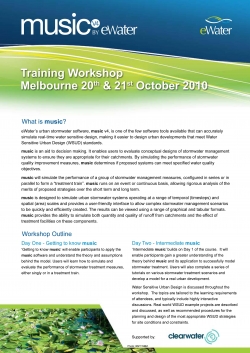 MUSIC V4
Wednesday 20th Oct 2010 - Tuesday 21st Dec 2010 9:00AM - 5:00PM
Location Not Specified

eWater's urban stormwater software, music v4, is one of the few software tools available that can accurately simulate real-time water sensitive design, making it easier to design urban developments that meet Water Sensitive Urban Design (WSUD) standards.

MUSIC is an aid to decision making. It enables users to evaluate conceptual designs of stormwater management systems to ensure they are appropriate for their catchments. By simulating the performance of stormwater quality improvement measures, MUSIC determines if proposed systems can meet specified water quality objectives.

Day One - Getting to know MUSIC
'Getting to know MUSIC' will enable participants to apply the MUSIC software and understand the theory and assumptions behind the model. Users will learn how to simulate and evaluate the performance of stormwater treatment measures, either singly or in a treatment train.
Day Two - Intermediate MUSIC
'Intermediate MUSIC' builds on Day 1 of the course. It will enable participants gain a greater understanding of the theory behind MUSIC and its application to successfully model stormwater treatment. Users will also complete a series of tutorials on various stormwater treatment scenarios and develop a model for a real urban development.

For more information or to register visit www.training.ewater.com.au</p