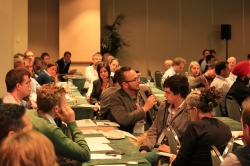 North East IWM Practitioner Workshop
Tuesday 6th Mar 2018 10:00AM - 3:00PM
Tuileries Rutherglen
13 Drummond Street, Rutherglen, Victoria, 3685
Registrations are now closed
Clearwater is facilitating a workshop for the North East region to strengthen the capacity of individuals and organisations to participate in Integrated Water Management (IWM) and deliver greater benefits to the community.
Purpose
This workshop will inform, inspire and support individuals from water corporations, local government and catchment management authorities to explore place-based integrated water management opportunities and support the upcoming IWM Forum for the North East.
Objectives
Develop a shared understanding the role of water in strengthening resilience and liveability in the North East.
Explore IWM opportunities for the region to deliver greater outcomes for the community through collaboration.
Strengthen networks and provide an opportunity for project sharing and knowledge transfer across organisations.
Inform and influence the Strategic Direction Statement for the North East Region.
Who should attend?
A broad range of individuals - both managers and practitioners - will provide valuable contributions to shaping the direction for the region. Representation from the following disciplinary areas is encouraged:
Community development
Strategic and statutory planning
Urban design and landscape architecture
Open space management
Environment/waterway management
Water/wastewater management
Inclusions:
Tea & coffee on arrival, lunch and afternoon tea.
Registration:
This event is supported by the Victorian Government Department of Environment, Land, Water and Planning (DELWP). Registration is free of charge*. Follow the link to REGISTER NOW.
Enquiries:
Maddy McKinley
Project Officer
p: 9679 7916
e: maddy.mckinley@clearwatervic.com.au
*An administration fee may be charged by Clearwater if participants fail to cancel or transfer their registration 5 working days before the event.