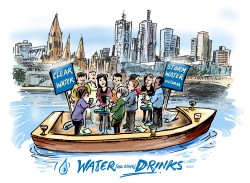 October Water Drinks
Monday 17th Oct 2022 5:30PM - 7:30PM
Flagstaff Gardens - City of Melbourne Bowls Club
Melbourne, Victoria, 3000
Registrations are now closed
It's been a long time between drinks!
Clearwater and Stormwater Victoria are hosting this networking event for practitioners involved in stormwater management and Integrated Water Management (IWM). We call it 'Water Drinks' but don't despair - wine and beer are available.
This popular event is an opportunity to connect with colleagues in the industry and to share ideas, experience and perspectives in an informal environment.
Please arrive at the Flagstaff Gardens Bowls Club from 5.30pm onwards for short presentations and networking activity at 6.15pm
Inclusions
Cocktail snacks and a drink voucher (beer or wine)
RSVP
Wednesday 12 October
TESTIMONIALS:
"I met sooo many new people."
"I find it a great way to touch base with people in the industry I don't often get to see in person."
"I think this is a great, accessible opportunity for all sectors of the industry to get together. The informality helps to break down barriers and the food and drink gets the conversation going."
Enquiries:
p: 9679 7711
e: info@clearwatervic.com.au