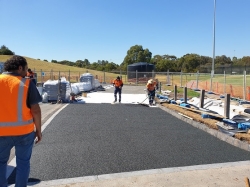 Permeable Pavement site visit: City of Yarra
Thursday 6th Oct 2022 10:00AM - 11:30AM
Meeting point advised upon booking

Registrations are now closed
Overview:
Join Damien D'Aspromonte & Sainath Tavate from City of Yarra, Julian Giannetti & Scott Dunn from Engeny and Amir Mehdizadeh from the University of Melbourne to learn about the permeable pavement trial in the City of Yarra.
We will visit sites at the Ramsden Oval car park and Rutland St in Clifton Hill. The pavement is made from around 70% recycled tyres and thereby diverts a sizeable waste item from landfill. The pavement is designed to to improve stormwater quality and reduce pollutants before stormwater enters the downstream waterways. It also reduces potential impacts of urban flooding and recharges the moisture content of the soil beneath.
These projects are part of a trial developed by Melbourne University in collaboration with Yarra City Council and funded through Sustainability Victoria's Sustainable Infrastructure Fund. Trial sites will be monitored to test the water quality improvements, the efficiency of rainwater and durability of permeability and infiltration rate, and the impacts on ground movement. The Ramsden St pavement is anticipated to treat over .29 ML/ per year.
Watch a clip on how the pavement works
Learning Outcomes:
Attending this site visit you will have opportunity to learn onsite about the permeable pavement project
Design evolution
Construction
Ongoing evaluation / monitoring / research
Audience
Suitable for anyone involved in road / infrastructure management, asset maintenance, urban planning or sustainable water planning including developers, planners, architects, environment and maintenance staff.
RSVP:
Thursday 29 September
Enquiries:
PH: 9679 7711