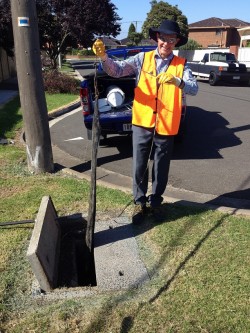 Point-Source Stormwater Pollution Forum
Wednesday 26th Apr 2017 9:30AM - 1:30PM
Karstens Conference Rooms
123 Queen Street, Melbourne, Victoria, 3000
Registrations are now closed
Don't fully understand the risks of point-source pollution?
Not sure if it is a problem for you, your local area – or your role?
Want to understand what can be done about it?
Overview:
Point-source pollution (a single, identifiable source of pollution such as a property, pipe or drain) poses a significant threat to waterways and human health in urban areas across Greater Melbourne and beyond. It also presents risks that can affect amenity and the longevity of drainage assets. However, it is difficult to fully understand the risks associated with point-source pollution, the extent of the problem and what can (and should) be done about it.
Melbourne Water's Living Rivers Program and Clearwater present an outstanding line-up of subject matter experts and local government case studies in this half-day forum, aimed at supporting local government and the industry in improving point-source pollution management.
Presentations will include:
Introduction to point-source pollution and source-tracking techniques (Centre for Aquatic Pollution Identification and Management - CAPIM)
Educating industrial businesses identified as polluters (City of Whittlesea)
Planning controls for industrial stormwater management – education and enforcement (Hume City Council)
Novel sampling techniques to monitor pollution sources in industrial estates (City of Greater Dandenong)
Educating food businesses and tracking faecal contamination to reduce pathogen risks for beachgoers (Mornington Peninsula Shire Council and Monash University)
Presentations will be followed by an interactive small-group discussion and panel session.
The session will provide you with:
A sound knowledge of the key risks presented by point-source pollution
Knowledge of the tools and approaches to tackle point-source pollution
The opportunity to ask questions of industry experts (including input on next steps to address the issue)
Access to a network of industry practitioners as a 'community of practice' for ongoing pollution management
Audience:
The session will be particularly useful for practitioners hailing from Local Government (including those from environmental health, local laws, planning enforcement, environment/sustainability, asset management and community education), water retailers, and other agencies involved in management of waterways, drainage assets, urban development and human health.
Inclusions:
Morning tea and lunch
Registration:
To attend this event, participants need to register their attendance before Thursday April 20:
Registration cost is $45 - please follow the link to REGISTER NOW
Local Government attendees benefit from a Living Rivers sponsorship - they

must

register their attendance with the Living Rivers team to claim their sponsored ticket: LivingRivers@melbournewater.com.au
Enquiries:
p: 9679 7711
e: info@clearwatervic.com.au