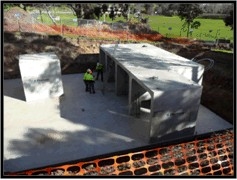 Stormwater harvest and reuse
Tuesday 19th Apr 2011 9:00AM - 3:00PM
Karstens Conference Rooms
123 Queen Street, Melbourne, Victoria, 3000
Registrations are now closed
This workshop will introduce key steps to consider when scoping a sustainable water project integrating stormwater harvesting and water reuse. You will follow a stormwater harvest and reuse case study to highlight the considerations for water demand, supply, storage, treatment and project evaluation. Interactive activities will focus on tools for calculating yields, storage needs and irrigation schedules. Relevant legislation, guidelines and risk assessment procedures for stormwater and waste water reuse use are also covered.
This course does not address commercial or industrial water recycling or augmentation cost comparisons.
What you can expect from this workshop:
Interactive activities demonstrating useful tools to calculate usage requirements and project costs
Informative case studies
How to complete a pre-feasibility water plan
How to analyse water consumption and reuse options for your site
How to assess risks and meet federal and state regulations and guidelines

Inclusions:
Morning tea and lunch are provided

Audience:
Ideal for environmental planners, designers and engineers from government or commercial organisations needing an introduction to IUWM planning for their site.