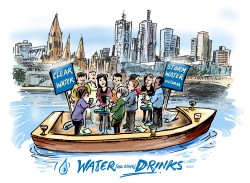 Water Drinks
Thursday 27th Jul 2017 4:00PM - 7:00PM
Slate Restaurant Bar
9 Goldsbrough Lane (near corner of Bourke & William St), Melbourne, 3000
Registrations are now closed
Clearwater and Stormwater Victoria are continuing their popular series of networking events for practitioners involved in stormwater management.
The 'Water Drinks' are an opportunity to meet colleagues in the industry and to share ideas, experience and perspectives on key issues in an informal environment. The event is open from 4pm onwards but you are welcome to arrive at 5pm for welcome and update speeches.
Stormwater Vic Forum
In July Water Drinks is being held on the same day as Stormwater Victoria's Forum 'Current Review of Statewide Stormwater Policy'. The Forum will feature a review of various statewide stormwater-related policies including:
State Environment Protection Policy (Waters of Victoria) (SEPP)
Victoria Planning Provisions (VPPs)
Urban Stormwater Best Practice Environmental Management Guidelines (BPEM)
The event will be held at the City of Melbourne Bowls Club, Flagstaff Gardens, Dudley Street, West Melbourne, VIC, 3003 from 12.30 to 3.45 pm. A light lunch and afternoon tea are included in the registration fee.
Attend both events and receive a discount
Register for both Water Drinks and Stormwater Victoria's Forum through the online registration form and receive a discounted price for attending both events.
Inclusions for Water Drinks
Cocktail snacks and a drink of your choice.
RSVP
Wednesday 19 July
Enquiries:
p: 9679 7711
e: info@clearwatervic.com.au