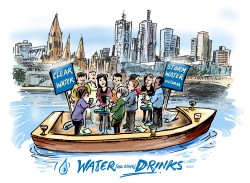 Water Drinks
Monday 20th Nov 2017 5:00PM - 8:00PM
Flagstaff Gardens - City of Melbourne Bowls Club
Melbourne, Victoria, 3000
Registrations are now closed
Clearwater and Stormwater Victoria are continuing their popular series of networking events for practitioners involved in stormwater management.
The 'Water Drinks' are an opportunity to meet colleagues in the industry and to share ideas, experience and perspectives on key issues in an informal environment.
Details
Join us for the next Water Drinks, which will be held straight after Stormwater Victoria's technical event: Sponge Cities - Keeping stormwater in the catchment.
Enjoy a glass of beer/ wine/ soft drinks, a few nibbles and network around a game of barefoot bowls!
Note: Register with on this page if you want to attend Water Drinks only; if you'd like to come to the technical event as well, please register with Stormwater Victoria.
Inclusions
Snacks and a drink of your choice.
RSVP
Wednesday, November 15
TESTIMONIALS:
"I met sooo many new people."
"I find it a great way to touch base with people in the industry I don't often get to see in person."
"I think this is a great, accessible opportunity for all sectors of the industry to get together. The informality helps to break down barriers and the food and drink gets the conversation going. The regular occurrence and late afternoon start makes it more workable for people to drop-in/drop-out according to their other commitments. I hope these events continue well into the future."
Enquiries:
p: 9679 7711
e: info@clearwatervic.com.au