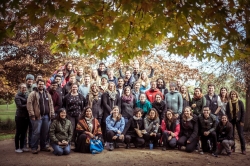 Waterlution Tour 2018
Saturday 19th May 2018 - Monday 21st May 2018 4:30PM - 4:30PM
Event Location to be advised closer to the event
Melbourne Water and Clearwater are proud to be partnering with Waterlution Canada, to host a two-day field tour across the Port Phillip & Westernport region, as part of a week-long immersive Water Innovation Lab that is coming to Australia for the first time in May this year.
Waterlution is a Canadian capacity building organisation working in the water sector, and their Water Innovation Labsoffer inter-generational and cross-sectoral learning for an 'on the ground' level of collaboration between young leaders, mentors and facilitators. They are designed for 20-35 year-olds from a diversity of backgrounds and nationalities who are passionate about water.
The two day field tour will give participants an opportunity to experience water projects first hand and provide insight into key water issues facing Australia's second largest city – Melbourne. Participants will visit a variety of flagship projects in metropolitan, urban and regional environments.