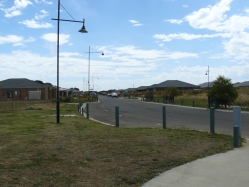 Workshop: What is a Water Sensitive City?
Tuesday 5th Jun 2012 4:00PM - 2:00PM
2 Simpson Street
Proudfoots on the River, Warrnambool, Victoria, 3280
Clearwater, in partnership with Warrnambool City Council and Horizon 21 will be delivering a free workshop to learn about the benefits of applying Water Sensitive Urban Design, a range of sustainable water management techniques, and relevant policy and legislation.
Audience
This session is ideal for planners, engineers, drafts people, architects, horticulturalists, builders and site supervisors.
At the end of this session you will:
become familiar with the concepts required to design an effective stormwater harvesting project
learn about the latest research in stormwater pollutants
gain and understanding of how to plan for and apply stormwater technologies
learn about an innovative water harvesting project underway in the South West.

Inclusions
Drinks and a light supper
How to register
RSVP by Friday 1 June 2012 to adickinson@warrnambool.vic.gov.au or phone 03 5559 4847
Flyer attached for more detail