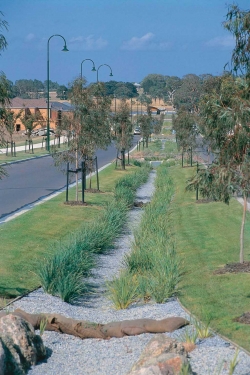 WSUD 2012 Technical Site Tour
Friday 24th Feb 2012 9:00AM - 4:30PM
Meeting point: MCG (Conference venue)
Melbourne, Victoria, 3000
Overview
Clearwater's latest technical tour has been designed for the 7th International Conference on Water Sensitive Urban Design.

The WSUD 2012 Technical Tour will highlight how innovative WSUD stormwater treatment measures and harvesting systems contribute to a water sensitive city vision. The tour will visit new and established WSUD sites at a range of scales across Melbourne. Council experts, design consultants and project partners will be on hand at each site to provide valuable insights into the development and management of each project; discussing challenges, learning's and outcomes from concept to completion.

Audience
Ideal for practitioners involved in sustainable water planning or asset design such as developers, engineers, planners, landscape architects and environmental managers.

Sites visited will include:
Wicks Reserve: A large bio-infiltration basin designed to treat stormwater and retain it on site while creating a habitat and protecting the receiving creek.
Dandenong Wetland: Melbourne's largest wetland (48 hectares) treats solid, phosphorous and nitrogen in stormwater to protect the waterways and bay.
Lynbrook Estate: The first residential housing estate to fully incorporate water sensitive design principles in streetscape with a centralised wetland treatment system.
Dandenong Town Centre: Station North Upgrade and Realignment Project (SNURP) incorporates over 100 treament tree pits and a stormwater harvesting facility for landscape irrigation.
Darling Street: An innovative stormwater harvesting system that captures, treats and stores water for parkland irrigation.

Inclusions:
Morning tea and a BBQ lunch in the park

How to register
You can register for this workshop as a stand alone event. Registrations must be made via the WSUD 2012 website .