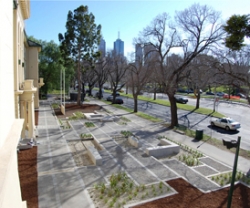 WSUD City Walking Tours (Flood Conference)
Wednesday 13th Feb 2013 - Friday 15th Feb 2013 9:00AM - 5:00PM
Event Location to be advised closer to the event
Clearwater is excited to be delivering three WSUD City Tours designed for the 8th Victorian Flood Conference. The City Tours will highlight how innovative WSUD stormwater treatment measures and harvesting systems contribute to the vision of a water sensitive city.

The tour will visit new and established WSUD sites at a range of scales across Melbourne. Council experts and project partners will be on hand at each site to provide valuable insights into the development and management of each project; discussing challenges, learnings and outcomes from concept to completion.
Clearwater tours will be delivered on days 2 and 3 of the conference:
Day 2 Thursday 14 February: Darling Street Excursion
Day 3 Friday 15 February: WSUD City Walking Tour x2

About the Victorian Flood Conference
This conference will connect Australian and International water industry professionals from both the private and public sectors including researchers, consultants, all tiers of government, floodplain managers, urban planners, emergency and community services, engineers, catchment and natural resource managers, landholders and students. The focus will be on sharing knowledge and expertise about flood management. Flooding remains a significant community issue throughout the whole of our state and country.
Registrations must be made directly through the Conference organisers. Full details and how to register visit the 8th Victorian Flood Conference website.