A new Water Plan for Victoria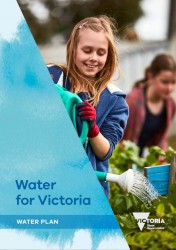 19 October 2016
On Wednesday 19 October, the Victorian Government launched the new State Water Plan. The comprehensive state-wide water plan provides a new framework to guide integrated water management (IWM) and explore alternative water sources – including recycled water and stormwater – to create more liveable and resilient communities, amongst other objectives. At the launch of the plan, Minister for Water, Lisa Neville, emphasised improved planning and building regulations for better water outcomes and a push for Victoria to provide international leadership in demonstrating how IWM can improve urban and regional liveability.
Minister Neville said the Water for Victoria plan was "innovative, future-focused and affordable". Specifically, in relation to innovation, she mentioned the importance of designing liveable and resilient suburbs of the future; putting IWM into practice; local decision-making; reviewing Victorian Planning Provisions (Clause 56.07) and building regulations to improve stormwater management outcomes. Water for Victoria outlines a plan for deeper engagement with the community including Aboriginal Victorians and a series of community forums to explore IWM opportunities.
Key new elements in the State Water Plan:
Focus on customer needs and creation of next generation of leaders
Strengthening of water planning regulations and consideration of the recreational values of water sources
Largest long term investment in healthy waterways and catchments ($222M)
Net zero emissions in the water sector by 2050
Water corporations to have a role to support regional development and change
Plan for water in agriculture across the State – south, north, east and west
Embracing the water grid and markets – using it, building on it, planning with it
Recognition of Aboriginal values for water, including a roadmap to improve environmental health

Check out the official media release.