Clearwater celebrates 1000+ LinkedIn Followers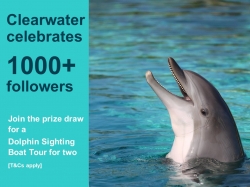 09 February 2021
*Update 15 Feb: Congratulations to our random prize draw winner Nausheen Obaid*
Clearwater is celebrating 1000+ LinkedIn Followers
Clearwater will make 1000 LinkedIn post on Tuesday 9 February inviting our LInkedIn followers to comment on how Clearwater has supported their WSUD / IWM journey. Participants will need to make their post before close of business on Monday 15 February.
All followers who comment will go into a random prize draw to win a 2hr Seal and Dolphin Tour for x 2 persons in Port Phillip Bay valued at $188
Full terms and conditions below
_____________________________________________________________________________________________
Clearwater 1000 Followers Prize Draw – Terms and Conditions
Please note – The Clearwater Program is currently hosted by Melbourne Water
1. ELIGIBILITY: Entry to the Clearwater 1000 Followers Prize Draw (the Prize Draw) is subject to these Terms and Conditions. Each participant may enter the Prize Draw only once. By entering the Prize Draw you are indicating your acceptance of these Terms and Conditions.
2. ENTRY: Prize Draw entrants must be over the age of 18. Entrants will participate in the completion by commenting on Clearwater's dedicated Prize Draw post on LinkedIn. Only one entry per person will be accepted. Clearwater will not accept joint entries or entries on behalf of another person. Clearwater's and Melbourne Water's employees, contractors, directors or their immediate family members may not enter the Prize Draw. You are required to be a Clearwater LinkedIn follower to enter.
3. OPEN AND CLOSE DATE: The Prize Draw will open on Tuesday 9 February 2021 and close Monday 15 February 2021 at 5pm.
4. PRIZE: There will be 1 x two-person Dolphin Sighting Tour voucher available to be won (valued at $188). This tour starts in Queenscliff and the vessel, Maureen, will take passengers out to the Southern Port Phillip Bay. The tour is a 2-hour experience and includes a 30-minute debrief/check-in and 1.5 hours on the water. The voucher is valid until December 2021. The prize cannot be exchanged, transferred or redeemed for cash or other prizes.
5. SELECTION: Entrants will be selected at random. Random selection will be overseen by the Manager of Community Engagement and the Clearwater Program Lead. The draw will occur virtually using an online randomiser on Tuesday 16 February 2021 at 10am.
6. WINNERS: The Winner will be notified in writing within 24 hours of the draw. Winner must claim their prize and provide an email address within 14 days of being notified. The prize will be sent to the winner within 28 days after the draw.
7. REDRAWS: In the event that a winner has not claimed their prize within 14 days from the time of being notified, Clearwater will conduct a second draw from the original Prize Draw entrants but excluding any previous winners. The selection process will be repeated until all prizes have been claimed.
8. CONSENT: By entering the Prize Draw, entrants give permission to Clearwater and other organisations authorised by Clearwater to use the information provided as part of the Prize Draw for the purpose of improving Clearwater's capacity building services.
9. PRIVACY COLLECTION NOTICE: Clearwater is committed to protecting personal information we collect in the course of our business. Our collection, use and disclosure of your personal information is regulated by Victorian privacy laws including the Privacy and Data Protection Act 2014. You can find more information about your privacy rights at the Office of the Victorian Information Commissioner website.
The personal information you provide will enable Clearwater to process and enter you in to the Prize Draw. If certain personal information is not provided i.e. name, or if your LinkedIn messaging is not enabled, we may not be able to enter you in to the prize draw.
We will only use or disclose information about you for the purpose for which you provided it.
By submitting your entry you agree to the terms of this collection notice.
Our Privacy Policy is available on Melbourne Water's website (www.melbournewater.com.au) or by contacting Melbourne Water on 131 722.