Clearwater workshop: Exploring Liveability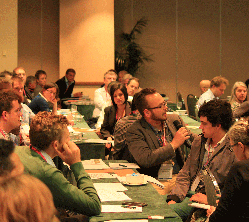 20 May 2013
Earlier this month, over 120 delegates attended the 2013 Stormwater Victoria Conference in Melbourne. The 2 day conference, entitled 'Liveability - resilience and prosperity', was a great opportunity for the stormwater industry to share relevant successes, experiences and learnings in their journey to achieve liveability through integrated water cycle management.
To complement the more traditional structure of concurrent sessions and keynote addresses, Clearwater delivered an interactive workshop to all attendees in the afternoon of the first day. The aim of the workshop was to provide attendees with:
a framework for reflecting on the liveability aspects of the conference presentations, and
an opportunity to think about how they can contribute to liveability through their own work

Facilitated by Jamie Ewert from Melbourne Water and the CRC for Water Sensitive Cities, the workshop was split into two interactive sessions, each followed by some time for sharing and reporting back to all attendees.
During the first session, table facilitators encouraged participants to reflect about the liveability aspects covered during the morning sessions. Key learnings raised by participants included: definitions of liveability itself, institutional arrangements to achieve liveability, the importance of community involvement and of cross-collaboration, learnings about green/open space and the multiple benefits offered by IWM. These learnings, recorded on coloured cards, were put on display in the breakout area for the remainder of the conference.
The second session invited attendees to pair up and discuss how they could begin or continue to advocate for liveability within their own organisation, either through direct actions or other means. This activity enabled participants to explore their own sphere of influence from a professional and personal perspective. All attendees wrote their actions and were able to take them away.
View liveability workshop image gallery
View liveability workshop summary report
View a selection of presentations - 2013 Stormwater Victoria Conference