Clearwater's IWM Masterclass series delivered for the fifth time this year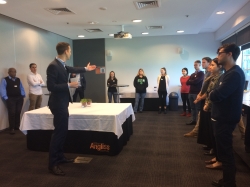 28 November 2018
In November, Clearwater delivered its fifth IWM Masterclass series in Victoria this year. Clearwater's Masterclasses are a four-part series of training workshops designed to build the critical non-technical skills needed to drive successful IWM projects within and across organisations.
The Masterclass series arms its participants with crucial skills required to advance IWM, in particular:
How to plan for IWM

How to collaborate within and outside your organisation

How to build a business case

How to communicate with influence
One attendee noted that the series "broadened my knowledge and motivated me to commence effective collaboration" and another improved their "ability to critically assess engagement that currently occurs and offer pathways for improvement and change".
Since February 2018, 19 courses have been delivered across the state (including regional Victoria and metropolitan Melbourne) to over 250 practitioners, receiving widespread acclaim and national interest.
The Masterclass series was offered at a subsidised rate in order to support the delivery of the Victorian Government's Water for Victoria strategy.