Completion of The Shakespeare Grove Main Drain Outlet Renewal Project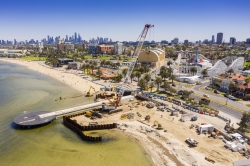 21 April 2022
Melbourne Water replaced the Shakespeare Grove main drain outlet in St Kilda to make it safe for the public and ensure it continues to reduce the risk of flooding to surrounding suburbs for years to come and at the same time compliment the surrounding area.
The Shakespeare Grove Viewing Platform, St Kilda was open to community on 26 March 2022.
While the construction was underway Melbourne Water engaged Justine Milsom from Juzpop Creations to develop artwork on the timber hoarding around the construction site. The artwork was inspired by values developed early on in the project at a workshop with local stakeholders which improved amenity of the area while construction was underway.
To find out more about the project and access some interesting photos from past and present.

Visit Melbourne Water website.