Consultation: Draft guidelines for stormwater harvesting on Melbourne Water assets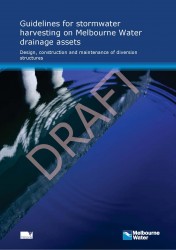 25 September 2015
As the licensing authority and waterway manager for urban waterways within the Melbourne region, Melbourne Water has developed draft technical guidelines for stormwater harvesting structures. The guidelines are designed to provide practitioners with guidance on Melbourne Water's requirements for stormwater harvesting schemes on Melbourne Water assets and recommend options for the design, construction, operation and maintenance of diversion structures.
Draft for consultation
Following earlier stakeholder workshops, Melbourne Water is seeking further feedback from the industry and the current draft of the guidelines is now ready for wider consultation:
Comments and feedback can be emailed to Melbourne Water or to IVWater (the consultants) directly. The project team is particularly interested in understanding whether the industry sees the guidelines as useful and relevant in the stormwater harvesting field.
The consultation process is open until Tuesday October 20, after which the guidelines will be finalised and made publicly available.
Workshop
For more information and the opportunity to ask questions, you can also attend a consultation workshop on
Friday October 16, 12.30pm – 2.30pm at Melbourne Water Docklands office (990 La Trobe Street).
Register your interest if you would like to attend.