Delivering on Water for Victoria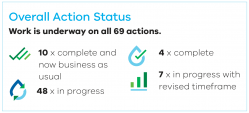 22 March 2019
Many new works and projects have been advanced in the two years since Water for Victoria was launched by the Department of Water, Environment, Land and Planning (DELWP) in October 2016.
These range from flagship waterway projects that are protecting and restoring waterway health, to supporting farmers' resilience with new infrastructure and skills, and building understanding of Aboriginal ecological knowledge in water management.
DELWP are working in partnership with water corporations, catchment management authorities, the Victorian Environmental Water Holder, Traditional Owner groups, local government and community partners. The reports below detail many of the significant achievements made since 2016:
Water for Victoria
Water for Victoria is a plan for a future with less water as Victoria responds to the impact of climate change and a growing population.The actions set out in the plan support a healthy environment, a prosperous economy with growing agricultural production, and thriving communities.
To find out more, visit the DELWP website.