Development opportunity: Deepen your knowledge about Water for Liveable and Resilient Cities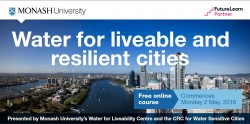 08 April 2016
After a successful first delivery last year, the 7 week free Massive Open Online Course on Water for Liveable and Resilient Cities will be running again this year (from May 2, 2016).
Prepared by Monash University's Water for Liveability Centre and the CRC for Water Sensitive Cities, the course explores the concepts of Integrated Water Management and water sensitive cities with some of the leading thinkers and practitioners in the area. It provides you with a space to learn, network, share ideas, debate issues and challenge the status quo.
Why not use this opportunity and sign up as part of your development plan?
For more information, check out the flyer or register directly online.