Elsternwick Nature Park to showcase best practice urban water management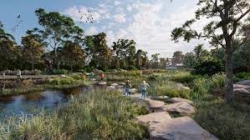 08 February 2022
Bayside Council are accelerating the transformation of a former golf course into a biodiversity rich nature reserve with expansive wetlands with additional funding recently announced by the Australian Government.
The Australian Government will contribute $5million to the Elsternwick Park Nature Reserve project in addition to a previous $1 million grant. The Australian Government funding complements Council's $9 million investment.
The Park will create a new and extraordinary natural space in the urban environment. It will have significant recreational benefits for the community as well as substantially enhancing biodiversity, water management and water quality flowing into Port Phillip Bay.
Council has adopted a masterplan for the14 hectare site to create new and expanded wetlands, a chain of ponds, wildflower meadows and woodlands. This will create habitat for native wildlife including threatened and endangered species just 10kms from the Melbourne CBD.
Proposed visitor facilities include a gateway feature building, Indigenous gathering places, 2kms of formal walking trails and over 1.5km of informal discovery paths.
Works to create the chain of ponds are nearing completion including landscaping featuring thousands of new aquatic and terrestrial indigenous plants.
Read the full update on Bayside City Council News page Funding boost for Bayside's new natural oasis
Access the Elsternwick Park Nature Reserve Masterplan
Watch clip of Aerial view of Elsternwick Park Nature Reserve