EPBC Act review - have your say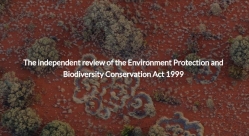 26 November 2019
The statutory review of the Environment Protection and Biodiversity Conservation Act 1999 (EPBC Act) commenced on 29 October 2019.
Over the next 12 months, the review will look at how the EPBC Act has been operating, and any changes needed for Australia to support ecologically sustainable development into the future.
All Australians are invited to participate in the review. A discussion paper has been released. Submissions are invited and are due on the 14 February 2020.
To find out more visit the Department of Energy and the Environment website.