Global green roof and wall map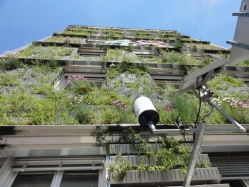 06 March 2013
A new website has been developed for mapping green roofs, walls and urban agriculture sites. The GrowingMap project is an open platform, which allows users to add location-based information of green roofs, green walls and urban farms.
The system is free to use and designed to engage professionals, organisations, municipalities, businesses, installers, designers and landscape architects, research facilities and individuals.
Several objectives of the GrowingMap project include:
To contribute and promote local and global implementation
Collect, inform and share easy to view data, statistics and growth status
Stimulate interaction and connections between individuals searching information and solutions.

Visit the GrowingMap website to view sites around the world or share your own.
(Image courtesy of Dier 48 Gruenwand Project from GrowingMap - Largest Austrian living wall)