Guide for local government to construct a business case for water sensitive investments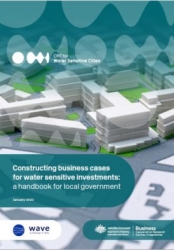 05 February 2020
Have you been struggling to get support for a more holistic and integrated approach to water infrastructure investments? Check out the guide for local government to construct a business case for water sensitive investments from the CRC Water Sensitive Cities here.
This guide provides local government with:
- Case studies
- Tips for your pitch and proposition
- Clear definition of the terms relating to non-market values of water sensitive systems and practices such as Choice Experiment, and Water Sensitive Investments
- Financial resource options
- Tools and products to calculate and capture both monetary and non-monetary benefits
- What to include in your business case
This guide is built on research and studies under the CRCWSC Integrated Research Project 2 (IRP2): Economic Evaluation Framework. The study includes the study on the community's willingness to pay for water sensitive interments.