Highlights from 2018 Stormwater Victoria Conference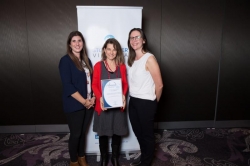 27 June 2018
Over 140 water professionals from a range of disciplines attended this year's Stormwater Victoria Conference on Water Sensitive Communities: Inevitable or Pipe Dream? The conference provided attendees with a fantastic opportunity to learn about the latest projects and innovations, and build connections across the industry.
This year the Clearwater team attended the two-day conference, and Ross Allen presented on Water­Sensitive Communities – Understanding Context and Enabling Collaboration, which provided insights from our series of regional capacity building workshops held last year to support the DELWP IWM forums.
We are honoured to have received Highly Commended in the Excellence in Policy or Education category at the Stormwater Victoria Awards for Excellence. It was very special and exciting for the team to receive the recognition and a great way to celebrate all of our recent deliveries. Congratulations to all of the award nominees and winners - what a fantastic spread of projects happening across the industry.
There is a wealth of information available from the presentations on the Stormwater Victoria website.