How Victorians can act for nature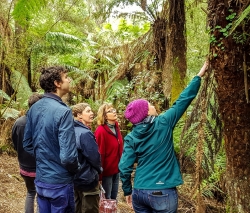 02 March 2020
A recent Department of Environment, Land, Water and Planning (DELWP) project titled How Victorians can act for nature, has identified the key three threats to Victoria's nature are:
invasive species
habitat loss
climate change
DELWP collaborated with ICON Science (RMIT) to identify key personal and community activities that Victorian citizens can do to protect nature. Many of recommended activities correspond closely with agency and community actions and initiatives coming out of the Melbourne Water Healthy Waterways strategy.
The five act for nature Victorian key recommendations are:
Spend time in nature
Volunteer for nature/citizen science
Tell stories and be a champion for nature
Plant native plants, or keep a wildlife garden
Keep pet cats contained/keep dogs on a leash when visiting natural areas.
A 2019 DELWP survey of over 3090 Victorians revealed that many people across the state are both connected to and acting for nature. The survey found that people who are more connected with nature are also more likely to be active in looking after the environment.