Indigenous-led water management project receives ARC funding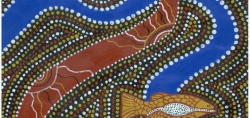 12 August 2021
Monash University Faculty of Art, Architecture and Design has received an Australian Research Council grant for an innovative new collaboration project to integrate Indigenous ways of knowing with urban water management.

The project – Repairing Memory & Place: An Indigenous-led approach to urban water design will explore how government agencies can apply Indigenous practices to urban water to enabling the repair of ecological and cultural memory of place to move towards a more sustainable water future.

The project will partner with Melbourne Water, Bayside City Council, City fo Port Phillip and Boon Wurrung Foundation PTY Ltd. It will focus on the bayside coastal area in Melbourne's south-east, Boon Wurrung Country.