Innovative approaches for developing council strategies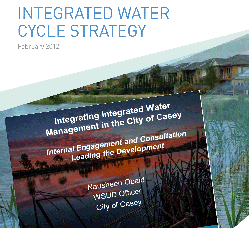 29 July 2013
A number of councils are in the stages of planning, developing and/or implementing Integrated Water Management Strategies within their municipality. We thought we would share a few council projects and programs in Melbourne's south east region.
City of Casey
The City of Casey is starting their journey of developing an Integrated Water Management Strategy. Nausheen recently presented at the Stormwater Victoria Conference on the process of leading internal engagement across council to assist in the development of the Strategy.

Included in the presentation was:
A summary of the steps involved in developing the Strategy
The Strategy's integration with existing plans and strategies
The challenges and risks
The use of a business case approach to secure greater commitment

They are now at the stage of conducting a series of internal workshops to help inform their implementation plan. The Strategy is due for completion towards the end of this year.
View Nausheens' presentation or contact Nausheen Obaid for more information

City of Kingston
A Strategy well underway is the Kingston Integrated Water Cycle Strategy. This award winning Strategy outlines the vision and steps required to achieve City of Kingston's goal of becoming a Water Sensitive City by 2040. The Strategy recognises that all elements in the water cycle are linked and for the first time considers the opportunities that are available to Council and the community to ensure water is used in a smarter way.
Since its launch in February 2012, a number of programs progressing well include:
The conversion of warm season grass on sporting fields
Retrofitting of buildings to best practice
All park redevelopments to incorporate WSUD
All new buildings to be water efficient.
Visit the City of Kingston's website for more information, or contact Renae Walton.