International Water Centre Leadership Program - Scholarships Available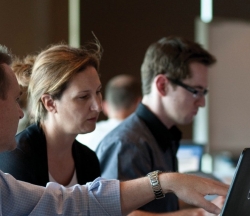 05 July 2016
Do you work in the water industry and have a strong commitment to developing your leadership skills?
The International Water Centre (IWC) Water Leadership Program is designed for emerging water leaders (project to middle management level) and customised for the water sector through sound research and collaboration with experienced industry practitioners. The Program helps participants develop the abilities they need to exert influence, drive change and advance challenging integrated water management projects.
The next round of the program will start in December and run for nine months with two face-to-face intensive sessions in Brisbane and various distance/online elements including coaching.
There are several fully funded scholarship (value $11,500) opportunities for the 2016/ 2017 Water Leadership program. Melbourne Water is offering three full scholarships. Two for emerging leaders in local government within the Melbourne Water region of Victoria and one for an emerging leader within Melbourne Water. Additionally The IWC is offering a full scholarship for a water professional currently working on integrated water management projects or programs anywhere in Australia. Other part scholarships are available through state Stormwater Associations.
Visit IWC website for more inforamtion and how to apply.