Is treated stormwater safe for growing food?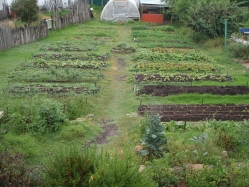 04 April 2011
Treated stormwater is safe to use on your household vegetable patch according to a new report by the Centre for Water Sensitive Cities at Monash University. The study found that vegetables watered with treated sotrmwater, normally associated with having strong levels of heavy metals such as lead, and increased pollutants, were just as safe to eat as vegetables irrigated from mains water supplies.

Dr David McCarthy from the Centre for Water Sensitive Cities said that two major findings emerged from the study. "We found that using treated stormwater did not noticeably increase the level of contamination in the vegetables when compared with those irrigated with the mains water. Secondly, it seemed that the most likely route of pollutants entering the vegetables was through the soil or possibly through the atmosphere", Dr David McCarthy said.

These findings were presented by Dr David McCarthy at a recent Clearwater event with project funding by the Smart Water Fund. Click here to view a copy of the presentation which is available on our website or for more information visit the Centre for Water Sensitive Cities.