Launch of the CRC for Water Sensitive Cities - Melbourne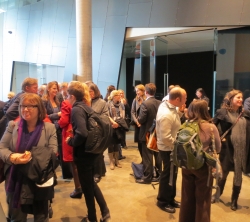 04 October 2012
On Monday 24 September, the Clearwater Team attended the launch of the CRC for Water Sensitive Cities. The CRC was officially launched in Melbourne, by Parliamentary Secretary for Sustainability and Urban Water, Senator Don Farrell.
The CRC for Water Sensitive Cities will work with over 70 research, industry and government partners with the aim to revolutionise water management in Australia and overseas. With a research budget in excess of $100million, the CRC's research over the next nine years will guide capital investments of more than $100billion by the Australian water sector and more than $550billion of private sector investment in urban development over the next 15 years.
As part of the launch, CEO Prof Tony Wong unveiled a video showing a fly-over a water sensitive city - a clever visual display of what a water sensitive city might look like in the future. Watch this video and find out more about the CRC at watersensitivecities.org.au.
Photo courtesy of the CRC for WSC.